PRESTIGE - FACE CARE PRODUCTS - HYALURONIC REPAIR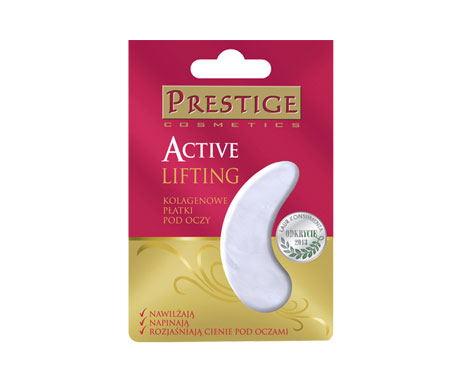 Active Lifting Collagen Eye Pads with Hyaluronic Acid
Do you dream of having perfectly smooth, tight and moisturized skin under your eyes? Popular creams do not help? Be sure to try our ultra-effective PRESTIGE eye pads which, with their super concentrated ingredients, deliver instant effects.
PRESTIGE eye pads work more effectively than ordinary eye creams, acting in a way similar to face masks. Depending on active ingredients contained in the pads, intensively moisturize, nourish and tighten the skin, reduce wrinkles and help get rid of puffy eyes. Contain Marine Collagen, Hyaluronic Acid and Plant Extracts.
PRESTIGE eye pads can be used in 2 different ways, as:
– instant moisturizing and firming treatment applied before an important event
– moisturizing and rejuvenating treatment, applied 1-2x a week for a month
With their unique semi-circular shape, the pads are extremely convenient and easy to use, perfectly adhere to your skin under the eyes. Made from special hydrogel immersed in a highly concentrated serum.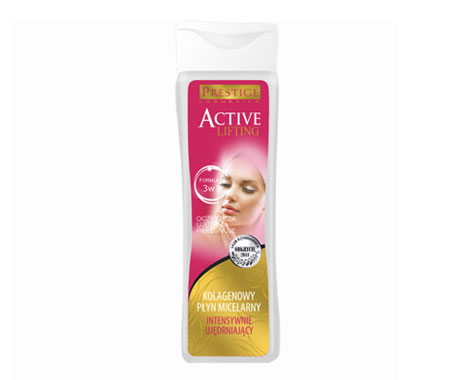 Active Lifting Collagen Micellar Liquid, Intensively Firming
Micellar formula, containing various cleansing ingredients, helps effectively remove make-up and even the smallest impurities on the surface of your skin. Contained in the liquid, collagen deeply moisturizes  and firms the skin, regenerates damaged epidermis and reduces and prevents wrinkles. Birch-tree Juice delays aging, making your skin velvet smooth. D-panthenol and allantoin have anti-inflammatory properties, soothe itchy and irritated skin with visible signs of fatigue. Lactic acid increases skin cell regeneration, perfectly cleanses the skin and stimulates fibroblasts which produce natural collagen. Offers anti-bacterial properties and helps keep natural pH balance. Once you have cleansed your skin with the liquid, your skin is then ready to apply your favorite face cream, perfectly absorbing all active ingredients contained in the cream.
Results? Your skin is:
-firm
-smooth and elastic
-deeply moisturized
-clean and fresh
-ready to apply other skincare products
Capacity – 200ml